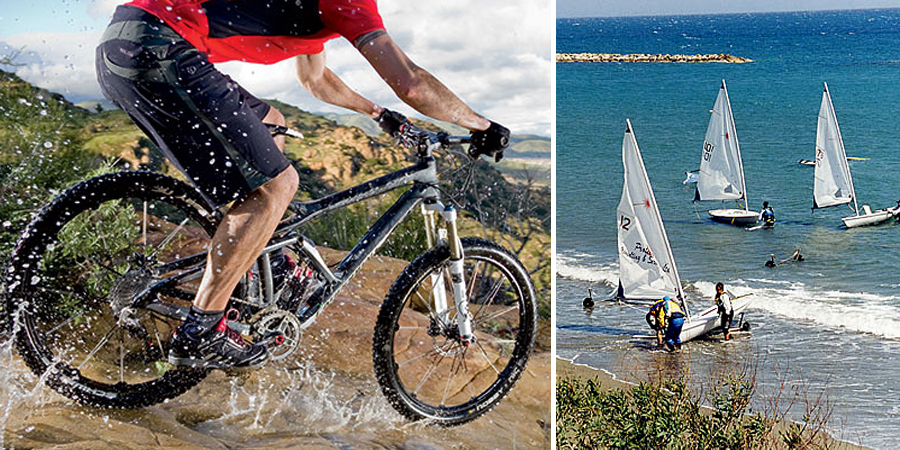 There are many reasons why athletes and sports lovers are drawn to our small and beautiful island…There's the exceptional climate, the range of up-to date sports facilities, the high-quality service industry, and the short distances between city, sea and mountains.
From gyms to training grounds, from Olympic swimming pools to mountain biking routes, there's everything the modern sportsman or woman could ask for.
Top-flight football teams from Europe and beyond choose to train in Cyprus every year. These teams have included Crystal Palace FC, FC Dynamo Moscow, AIK (Sweden) and many more. Cyprus boasts sixteen national stadiums, grass football fields, athletic facilities and training resources of the highest standard.
For professional or recreational mountain bikers looking to head off the beaten track, Cyprus offers an abundance of hidden trails along the coast or up to the mountains, each proposing something new to explore. Whether biking at the winding dirt tracks of the Troodos Mountains, the beautiful wild nature trails, or the rocky coastline of the Akamas, Cyprus is a heaven and a wonderful journey of discovery.
This slideshow requires JavaScript.
The climate, the wide diversity of terrain, the short distances between town, country and coast make Cyprus also perfect for runners. The island is a paradise for Triathlon as all triathlon sports can easily be practiced. Swimming, running and cycling races are organized all year round and provide ideal opportunities to test your skills in a relaxed atmosphere.
With the sparkling blue waters of the Mediterranean always close at hand, Cyprus is the perfect water-sports destination, summer or winter. Crystal clear with minimal tides, the waters of Cyprus are ideal for professionals and fun-seekers alike.
Sailing, windsurfing, swimming, canoeing, diving and more can be enjoyed easily and all year round.
Golfing, motor-sports, shooting, beach volley ball, tennis, squash, badminton, basketball, boxing, martial arts, bowling, karting, parachuting, hang-gliding and a variety of other sports are popular on the island and make Cyprus the ideal destination for sports not only for professional athletes but also for conference and incentive delegates as well as holiday visitors.
March 26,2018