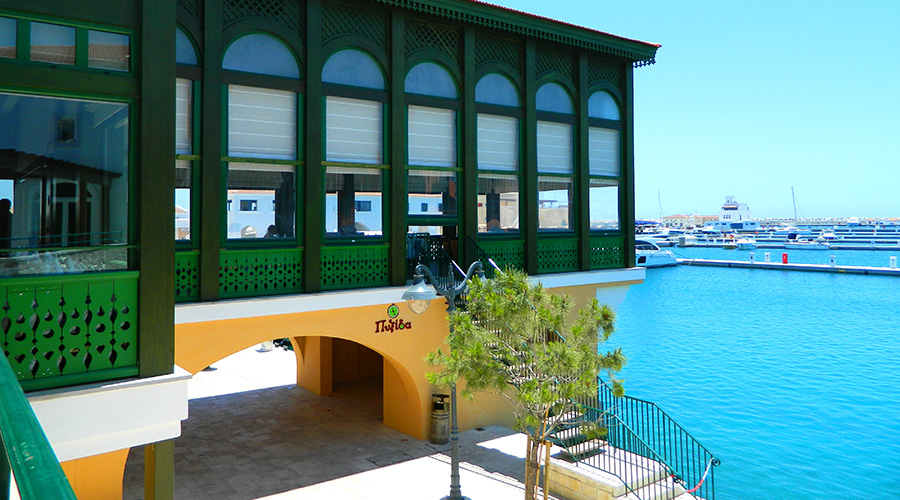 Avli tou Vasilea is a beautiful listed old house that has been transformed into a tavern. Situated in the historic Ayiou Andreou Street in Limassol Avli tou Vasilea boasts a charming courtyard full of colour and scented with fresh herbs such as mint, sage, basil, oregano and rosemary. The garden setting is perfect for enjoying Greek cuisine under the stars. Enjoy the popular Meze with its traditional dishes or choose from the A La Carte menu and rest assured that you are about to enjoy an authentic dinner experience. With helpful and friendly local staff and a wine list made up of Cypriot and Greek producers, your experience at Avli Tou Vasilea is guaranteed to be unforgettable.
Another high quality tavern serving traditional Cypriot cuisine is Karatello. The tavern is located just behind the Medieval Castle in the historical centre of Limassol. A stone built, modern restaurant with a simple yet classy decor. It used to be a part of the old Carob Mill and has now transformed into a renowned restaurant. If weather permits, travellers can enjoy their dinner alfresco on the cobblestones surrounding of the castle.
Pyxida Fish Tavern is located in the Limassol Marina and offers a bold and innovative 'sea-to-plate' dining experience with several varieties of fish and seafood. Pyxida combines a unique gastronomic experience with the breath-taking view of the coastal sea line. The surrounding area of the tavern comprises of a variety of bars and cocktail terraces, where visitors can continue their evening after their dinner.
Located in the heart of Limassol, in an old manor house with a modern, classy interior, Dionysus Mansion offers itself for all occasions. The mansion offers large generous portions and a range of wine options. The menu includes a variety of traditional dishes including the Cypriot 'moutzentra' lentils, the spicy cheese dip 'tirokafteri', 'anaropita' pie and many more delicious, traditional delights.
Last but not least, the Fish Market Tavern is based in Limassol's old port.  A lively, family-friendly debut with Michelin starred Chef Lefteris Lazarou, dishing up classic and creative Mediterranean food. At this vibrant and ambitious restaurant by the sea that offers everything from meal deals to upmarket restaurant choices you'll enjoy generous menu dishes, a nod to island life, with quality seafood cooked with love and sushi served in various platters to choose from.
This slideshow requires JavaScript.
October 03,2018